I invite you this Advent to use these unit study ideas and suggestions centered around the Jesse Tree ornaments and devotion. It's a favorite devotion of mine because it so well prepares our hearts and minds during the Advent season for the coming of our Lord. What better way for kids to learn about Salvation History and the genealogy of Jesus during Advent!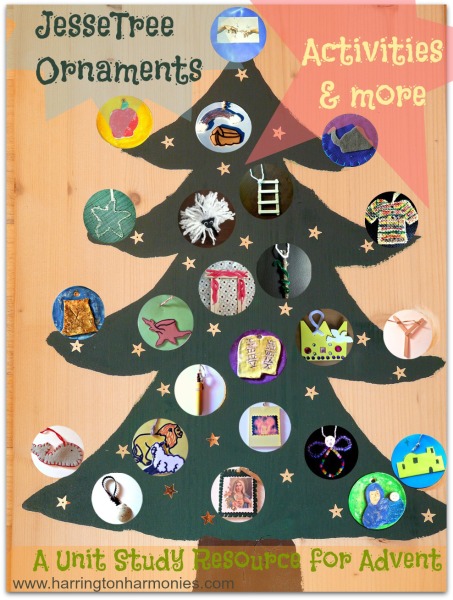 Most of these wonderful ornaments came to me from a Jesse Tree swap that I participated in last year-so I didn't make them all myself. A few of the patterns came from this Jesse Tree PDF while others were created by the moms themselves. Each mom in our homeschool support group planned three ornaments for each of the children to make. At the end of the gathering, each family had a full set of Jesse Tree ornaments! Isn't that a great idea! Perhaps you would like to use these Jesse Tree ornaments to plan a swap for your homeschool support group this year.
I like taking a nice break from homeschooling (and blogging)  in December but still want to do some light schooling along with an Advent devotion. The suggestions below add a bit of homeschool to the Advent mix. Each day you'll find some or all of the following:
ornaments and scripture readings for the day
mini Advent reflection
book recommendations
resource links for research, crafts, projects, printables and other homeschooling supplements
I am giving you these ideas and suggestions in enough time to either make the ornaments ahead of time or simply have fun making them on the day of each reflection. It's up to you!
*Disclaimer: Parents please note that not all the resources listed are Catholic sources and therefore may have varied doctrinal interpretations and need adaptation. My intent is to make this a resource for all Christians which they can then use and modify according to their tradition.*
Begin the activities on Dec. 1. for Advent 2013

Begin the Activities on Nov. 30 for Advent 2014
Advent Week 1: Light One Purple Candle
Day 1: Creation
Light one purple candle if you have an Advent wreath for week 1 and pray: "Lord, we thank you for creating this wonderful world. Help us to be good stewards and rejoice in it's blessings which come from you."
Read Genesis 1: 26-31  This Genesis Lapbook is a great resource if you are interested in using a lapbook as we go through the book of Genesis.
Play a number and match game with the days of creation or create a sequence of events board.
For older kids…Check out this awesome 7 Days of creation Lego project!
Or you can make your own creation timeline.
Math: Be sure your younger children know how to write numbers in sequential order.
Day 2: Adam and Eve
Light one purple candle if you have an Advent wreath for week 1 and pray: "Lord, even though we are unfaithful, you promised us Jesus. Thank you for the gift of redemption."
Read Genesis 3:1-19
For all have sinned and fall short of the glory of God.
In what ways have we fallen short in our faithfulness to God? Do an examination of conscience with your children today and make plans to go to reconciliation during this Advent season.
Use this prayer pail idea. In addition to nighttime prayers add questions for examination of conscience.
Don't forget to emphasize that God promised us a Savior and that our sins are forgiven.
Day 3: Noah's Ark
Light one purple candle if you have an Advent wreath for week 1 and pray: "Lord thank you for always keeping your promises. Help us to bring peace to others."
Read Genesis 6:11-14, Genesis 7: 17-18, and Genesis 8: 8 to Genesis 9:13
Make a dove paper plate craft  or a dove hand print painting -you may like to add messages of peace to them and give them to someone for encouragement today!
How are both the dove and the olive branch symbols for peace? Make peace with someone whom you need to reconcile with.
God always keeps his promises. What promises have you made that you have yet to keep? If possible, fulfill your promise today.
Day 4: Abraham's Faith
Light one purple candle if you have an Advent wreath for week 1 and pray: "Lord help us to do your will and when called by you to do something, the courage to do it."
Read Genesis 12: 1-7
Discuss – Have you ever made a long trip or pilgrimage? What was it like? Would you have the faith to do what Abraham did? As a military family we move a lot so this one we can really relate to. Are we obedient to God like Abraham? We must remember to build a "spiritual alter and pitch a tent" in our hearts for God wherever He may lead us.
If you don't already have one, make an alter or prayerful area in your home. If one already exists spruce it up or add a new element to it. Here are just a few possibilities:
Add a St. Barbara's branch for the season of Advent.  St. Barbara was one of the original 14 holy helpers and is a patron for soldiers, especially artillery men.
Make a manger and add straw for good deeds till it's time to lay baby Jesus in it.
Add fresh flowers, a new statue, or holy image that has significance for your family.
Day 5: Abraham's Descendants
Day 6: Issac's Sacrifice
Light one purple candle if you have an Advent wreath for week 1 and pray: "Lord, help us to believe you are leading us in the right way and that you will provide all that we need."
Read Genesis 22:1-14
Issac didn't know the sacrifice offered was to be himself. But in the end God provided a replacement sacrifice. This was a test of faith for Abraham and a reminder for us that God is trustworthy.
Discuss: How does Issac's sacrifice prefigure of our Lord 's one and perfect sacrifice on the cross? (Issac was loved by his father and was his only son just as Jesus in the only begotten Son of the Father. Issac carried bundles of wood and our Lord carried the cross. Etc.)
Make Issac's bundle of sticks for snack time today.
Make a poster or booklet that is titled:
And my God will meet all your needs according to his glorious riches in Christ Jesus ~Philippians 4:19

Write on the poster how God has been providing for you lately. You might like to use this Philippians 4:19 color page.
Liturgical Calendar-Note* Today is also the feast of St. Nicholas.  We have always loved this video: Nicholas: The Boy Who Became Santa
by CCC. You can also celebrate with a little St. Nicholas study . Then buy a chocolate Santa or coins to give to others.

Day 7: Jacob's Ladder
Light one purple candle if you have an Advent wreath for week 1 and pray: "Lord, everything I have belongs to you."
Read Genesis 28:10-22
Make Jacob's ladder today and place Jacob's life event or story points on the angel pattern or make this Jacob's ladder mini book.
Discuss: How does God provides for us and do we lives as if all that we have belongs to him? Help your child/children evaluate where their treasure lies (Matthew 6:20). What possessions are most important to them? Which ones would they be sad if they lost?
Click the links below for ornaments and ideas for:
Now hop around for more Holiday Unit Studies from the bloggers of iHomeschool Network :
Advent and Christmas Resources I recommend:
Make a Star of Bethlehem with this free, simple and easy Pastel Tutorial from Hodgepodge! Find even more Christmas Pastel lessons in:

This year I was happy to also find a lovely little Advent Calendar story. I'll be reviewing it soon! I plan to use this for our homeschool this Advent in addition to the Jesse Tree Ornaments which I will also be using with my CCD class. I was especially delighted by this lovely little book because of the German traditions shared in it. It made me recall living in Germany and I really enjoyed that. I can't wait to read it with my son this December!
How to Make a Jesse Tree: From the Mommy Mess
Advent Alphabet Plans: A Literature Rich Advent  by Training Happy Hearts
Christmas Lapbook from Aussie Pumpkin Patch
Nature Study Through the Holidays: Advent from Shining Dawn Books
12 Days of Christmas (traditions and history focusing on keeping Christ in Christmas) from Serving Joyfully
Christmas Around the World from Confessions of a Homechooler
A Norwegian Style Christmas from Eva Varga
Five Days of Christmas Carols – A Free Unit Study from Homegrown Learners
The meaning Behind The Twelve Days of Christmas from A Diligent Heart