I've been a homeschool mom for more than 18 years, so I've never actually had my own creative space. It really never even crossed my mind as something people had! (LOL). I've lived in 18 different homes in the last 20 years, most of them not my own. So, they were temporary at best.
 Art Studio Ideas for Small Spaces
I've made every place we've lived a home; that's just part of the military lifestyle. But, retirement has been different- and I didn't expect that. Silly me, I thought it would be easy.  It has taken me much longer to adjust and to make a home here. Usually everything is unpacked and set up in a week or two. It must be because of the permanency. I've never had a home that would be permanent.
per·ma·nent
ˈpərmənənt/adjective
1.lasting or intended to last or remain unchanged indefinitely.
It's gotten me out of my safety zone for sure. I've had to be patient. Still, I truly am thrilled and it's been a happy adjustment on my part. I've taken a room that was totally blah and made it into my own creative space. And I did it on a very limited budget too!
Hubby removed the carpet and I painted the walls. The color isn't one I'd normally choose but it just seemed right.  I have to warn you though, it looks very different in different types of lighting. For the most part it looks yellow, and that's a good phycological color for a creative space. I used left over KILZ paint to prime the dark blue previous color (so no expense for me there) and one gallon of BEHR All in One Quiet Veranda (around $30).
Next, hubby tore out the carpet and we hired the laminate flooring installed. It was the same cost as DIY since we'd need to invest in tools as well. Plus this way, we didn't have to do the labor. ( $400 for materials and about $300 for labor.) They were fantastic and had it installed in just a few hours.
DIY Craft Desk- $50
The rest of the makeover took me a bit longer. I searched for inexpensive items to furnish the room. A crafty desk was next in line. I really had no budget for this so I wasn't sure how to make it happen. Craft desks can be very expensive.
I built the above craft desk out of two double sided kitchen cabinets without doors. They came to me half painted and the both of them for $10. I painted them cream and then distressed the wood. See full instructions on How I made this DIY Craft Desk soon on Hip Homeschool Moms later this month.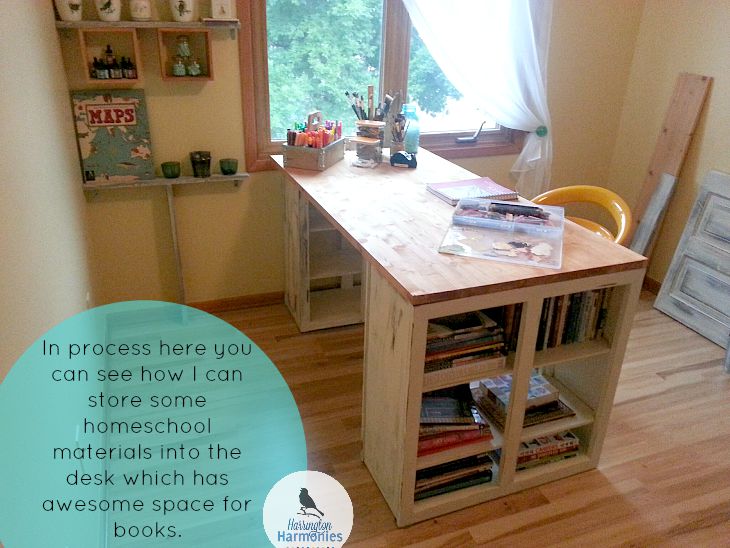 I found an amazing chair for this desk too- for $40 at a consignment shop. It was a lucky find! Because a craft desk is a bit higher than a standard desk, at 30 inches, you need a higher than average chair. I found that the lowest setting of this bar stool works well. So far, it's fairly comfortable and perfect for working on art. For computer work, since I have a laptop, I move around the house a lot anyway.
Art Shelves from Repurposed Old Wood $20
I needed a way to make my room feel like a studio- not an extra bedroom. I wanted my supplies at arms length. They didn't all have to be right at my desk- I don't mind getting up and moving around while I create. But I need them to be right there where I could see what all I have. This was the very fun part.
I made some old wood that I found in my garage into shabby little art shelves with just a little paint and small Corner Braces. I did have to do a little sawing with this project but it was minimal so i just used a hand saw and it wasn't too hard at all. I also found a nice shelf piece of unpainted wood so I made a few larger selves with those. all the shelving required was some paint I already had and some shelving hardware- for about 7 shelves it cost around $30 in hardware total. I also found those little square shelves that you see at garage sales of the last few months. I found three sets and picked them up for around $3 a set. I love how they added some interest as well as extra space! Total spent on shelves- $39.
Of course, I also do quite a lot of homeschooling it this room. It's definitely NOT a "stay out of mom's room" type room. But my two guys aren't too interested in what's in there- art wise, so no problems really with people moving things on me either. We do some homeschooling in there as well, especially when the printer is required. And we may also be in there to record some music too!
I know this isn't quite a homeschool room. We homeschool all over the house!  But because we do a lot of art in our homeschool and because I also store lots of homeschool books in the room, I linked it up here:
What new project or organization system are you using this year?